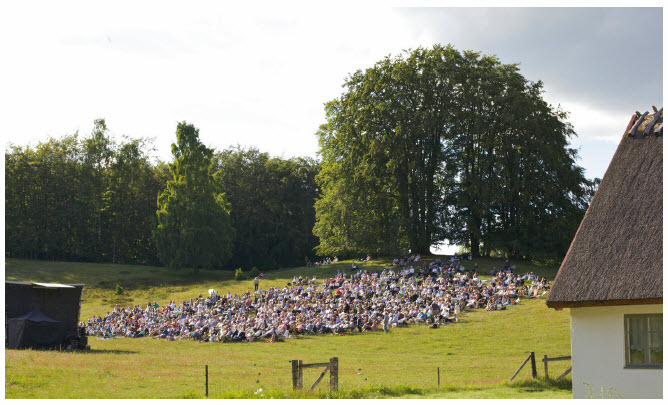 MAGICAL CONCERT WITH MALMÖ OPERA ORCHESTRA AND NORDIC OPERA SOLISTS INTRODUCES SUMMER OPERA FESTIVAL
FRIDAY 17 JUNE 19.00 – 21.30
It is something of a dream come true when our opera hill on Friday 17 June is filled with powerful tones from more than 50 musicians from Malmö Opera. To be able to invite our loyal audience to something so grand feels solemn. It was an easy decision to bring our opera festival forward a week to make it possible. The concert is performed together with guidOpera under the direction of Guido Paevatalu.
The program will offer well-known and beloved arias from all the operas we have performed at Drakamöllan over the years; La Traviata, La bohème, Carmen, Madame Butterfly, Tosca and more. Tonight's soloists, who we pick up from all over the Nordics, are also well-known profiles. Signe Asmussen, Josefine Andersson, Vibeke Kristensen, Frederikke Kampmann, Niels Jørgen Riis and Guido Paevatalu.
The evening's conductor is Gudrun Dahlkvist, a new shooting star who has already conducted large orchestras such as the Gothenburg Symphony Orchestra, the Norwegian Radio Orchestra, the Norrland Opera, the Helsingborg Symphony Orchestra and last but not least the Malmö Opera where she conducted An Evening with Thalia and Sound of Music.
LA TRAVIATA
SATURDAY 18 JUNE AT 15.00 – 18.00
Verdi's tragic love story and the world's most played opera right now will bring tears to her eyes. La Traviata was first released when it premiered in 2009 for an entire chamber opera performance on our opera hill.
Frederrike Kampmann makes her debut on our opera hill as a young and very promising Violetta. Other roles are sung by Niels Jörgen Riis, Guido Paevatalu, Josefine Andersson, Joel Kyhle, Hans Lawaetz and Torleif Steinstö.
We take the choir from Hässleholms Kyrkas Vocal ensemble with reinforcement from a number of other Scanian choirs.
Tickets:
Ticket Adult 17 June 600 SEK
Ticket Adult 18 June 600 SEK
Ticket Adult 17 & 18 June 1 000 SEK
Opera Box 17 June 275 SEK
Opera Box 18 June 275 SEK
Email us for tickets at order@drakamollan.com